Ex-Military Careers is one of the foremost online dedicated Ex-Military Personnel Jobs Board. A site that helps to ensure the smooth transition post Armed Forces to Civvy Street in establishing a new Career.
We businesses a platform to engage with an incredibly sought after skill set. Some of what we do include managing job vacancies under customer marketing campaigns. We provide featured listings & corporate banner space on our website & access to our extensive database and social media platforms.
Our Service has become invaluable to prospective employers who are looking to connect with highly skilled ex-servicemen who make for a respected and reliable workforce in any industry.
Ex-MilitaryCareers.com is the oldest job board within the military recruitment & advertising space. Highly regarded as the top ex-military career platform for candidates seeking employment since leaving or transitioning from the military. We serve to help employers find top ex-military candidates.
Ex-MilitaryCareers.com website was launched in 2013 and social media platforms created since 2010
Our Promise
Featured job ad positions; driving the best candidate to your business live requirements
EMC to provide your business with unrivalled access to relevant candidates from Entry level to Directors across the whole of the UK
Highly collaborative, long term partnerships to facilitate the introduction of Armed Service Leavers into your business working environment
Working with EMC will positively build on your company brand values to customers, employees and will highlight your businesses corporate social responsibility
Amplify your candidate attraction
Key Features
Industry leading technology
Unique candidate pool
Fully branded mirco site
Your jobs posted to Google jobs, plus multiple third party platforms
Promote your business
Candidates matching services
Multiple adnvertising opportunities
Flexible subscription packages
Jobs promoted across our social media network
Dedicated marketing campaign options
Dedicated email & phone support
Ex-Military Careers is a corporate member of the Recruitment & Employment Confederation (REC) and adheres to their Code of Professional Practice.
To advertise with us, register here or call us today!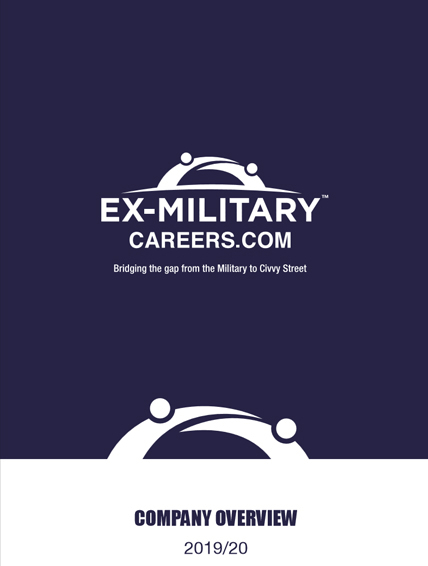 We are integrated with JobMate by Recruitive, Broadbean and Logic Melon to post your jobs
Recruitment services we cover:
Finance (front - middle - back office)
Compliance & Risk
Senior Appointments
Portfolio Managers
Fintec
Cyber Security
DB Cleared
Engineering
Project Management
If you would like to discuss our recruitment services, please contact: recruitment@ex-militarycareers.com