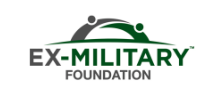 Welcome to the Ex-Military Foundation
Our mission is to Bridge the Gap from the Military to Civvy Street. We have created our own bespoke demystification content and training courses to assist with empowerment through meaningful employment. The Ex-Military Foundation aims to create a robust and sustainable mentor platform to offer ongoing support to candidates embarking on a career outside of the military.
Our trained mentors are industry leaders from Banking, Recruitment, Professional services, FMCG and Engineering, all are on hand to offer one on one CV guidance, Interview preparation and ongoing support.
The Ex-Military Foundation offers travel expenses, onsite training, accommodation allowances for all candidates being mentored to secure employment.
Mentees
If you are embarking on your journey from leaving the military or require assistance in preparing for an interview, critical guidance on your CV, help to demystify your skills to Civvy Street, identify suitable job opportunities and support on your ongoing ongoing journey; reach out to Info@Ex-MilitaryCareers.com
Mentors
Becoming a mentor can boost your own career as well as helping others. As a mentor you offer guidance and advice on practical issues, setting goals and achieving results within a specific timescale. You offer moral support and encouragement too.
For an Ex-Military Foundation mentor pack and more information on how to become a mentor please email us at Info@Ex-militaryCareers.com
Events Calendar/ Corporate Partnerships
We have a detailed events schedule for 2016 Including Pier to Pier Swim, London to Paris Bike Ride, Tough Mudder and various 10K runs across the United Kingdom.
For more information on how to get involved in our events and fundraising opportunities for 2017/2018 contact us on Info@Ex-militaryCareers.com
Corporate Impact Strategy
The Ex-Military Foundation works with corporate businesses to create a sustainable social impact policy. We aim to go beyond Corporate responsibility and create meaningful, sustainable innovation by empowerment and meaningful employment.
Showcase best practice and consider how best to apply it
Define what success will look like and metrics
Agree objectives, ownership and governance
Develop a plan

Our Education and Training Events:
Align military people's skills with your needs
Dispel misperceptions and stereotypes
Assistance
A percentage of income genterated from Ex Military Careers is given to candidates who may need support with travel expenses, work uniform, housing deposits, and similar needs based around employment.

Download our PDF brochure here